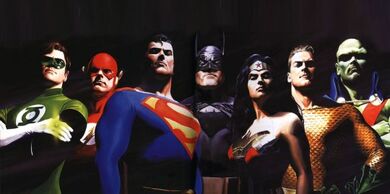 The Justice League, also known as the Justice League of America, is a fictional superhero team appearing in American comic books published by DC Comics. The Justice League was conceived by writer Gardner Fox, and first appeared in The Brave and the Bold #28 (Feb.-March 1960).
The team is an assemblage of superheroes who join together as the Justice League. The seven original members were Superman, Batman, Wonder Woman, Green Lantern, Martian Manhunter, Aquaman, and Flash. The team roster has rotated throughout the years, consisting of many superheroes from the DC Universe.
The Justice League received its own comic book title called Justice League of America in October 1960. With the 2011 relaunch of its titles, DC Comics released a second volume of Justice League and in 2015 released a fourth volume of Justice League of America, both of which are currently in print. Since its inception, the team has been featured in various television programs and video games and is set to appear in the 2017 film of the same name.
External links